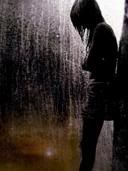 i have to let you go. hopefully i can. -.-
sometimes its better to let things go
even if it hurts like hell .
PS. He loves you. He want you. He promise u. then, he left.
#sumpah eika benci this entry. bt, eika post entry nee cz eika nak redakan rase dlm hati eika nee. and again eika lost someone that i really love and its hurts.
ya allah , bawa dye jauh dari pandangan mataku andai kata dye bukan milikku.